Testimonials

We looked at several door systems including Fold A Door. We drove several hours to Calif and met with a rep who answered our questions. After completing our purchase and receiving our new door a field rep drove to Lake Havasu, Az and spent the day making sure our contractor installed the door system correctly. Our door works flawlessly and now all we hear is "Oh, Wow!!!" When friends come over. I highly recommend this company.

We recently ordered an 8'x18' door and a 5'x5' window for our home. We couldn't be happier! They are both so beautiful. the quality is top notch. The company was great to work with and so helpful with all of our questions. The field rep was very responsive and helpful and so knowledgeable about the doors and windows! We are early in the house construction process and can't wait to finish the build.

Awesome getting some help from their Field Tech. Super helpful with the installation and ability to bring in expertise that covered a strong background and a variety of options that worked for the install crew and engineering while on site. The product works well and although a leap of faith on reputation and order process, as Fold a Door hasn't been on the US market for very long, it has turned out to be a good experience and we will continue to install the accordion doors for our upcoming build.

Let me preface this review by stating that I am a demanding customer. With that being said, I can tell you that I did my research regarding bifold doors for close to a year. I visited numerous showrooms and came across some pretty poor quality doors. When I contacted EZ Fold-A-Door the supervisor was more than willing to meet me on a Saturday so I can tour their showroom. He answered all my questions and was very knowledgeable. The minute I saw the EZ Fold-A-Door display it was clear that the doors were well made, beautiful, and half the price of the major brand (La Cantina) and equal or better quality. I had the doors installed yesterday. The field rep was here several hours guiding my contractor on the install. I can't begin to say how blown away I am with these doors, they are GORGEOUS! They are very well made and they use top quality materials and they stand behind their product with great warranty. The customer service is great, our rep was always very responsive and very nice. I am attaching a few pics but the pics don't do the bifolds justice. I highly recommend getting the retractable screen door as well. Trust me, If you are looking for bifold doors, look no further, EZ Fold-A-Door is the best company out there and their prices can't be beat, you won't be disappointed.

Amazing experience from the initial contact, to design/CAD drawings, and to finally installation. So easy and less daunting than expected. The field rep who was very responsive and dependable came to the install and helped my contractor and crew install the door of our dreams. EZ Fold a Door made the experience truly easy and without hesitation would recommend to anyone looking to add a statement piece to their home.

I'm a builder who loves the EZ-Fold-A-Door system and price points. Having access to their great customer service representatives makes the process so much easier to install and sell the vision to homeowners. On our initial installs our crew had missed a few steps due to not following directions or using EZ's resources as well as we should of. EZ-Fold-A-Door flew out their own personal professional instructor who trained us by taking to time to completely reverse engineer the door. We now have a full understanding of how simply this door can be sealed and installed on future projects in a quick and profitable manner.

EZ Fold A Door is the best way to compliment your home or business. Wonderful system and fully functional with ease. Try them out this one is 10' tall x 16' wide and look and moves smoothly along the track. Great for an venue to open your home or space to the great outdoors for recreation or just mental therapy. Enjoy. Great field representative to give you step by step instructions for a successful product.

Best Home Improvement that we've done. Everyone who sees our door loves it and wants to know where we got it. Save yourself time and money and go with EZ-FOLD-A-DOOR, you will not regret it. Everyone from the office to the installers are knowledgeable and friendly. We wish we had a bigger house to put more of there products. We did get a screen to go along with our giant folding door and can't wait to install it, we should've ordered it with the door but didn't know how awesome it would be.

I have purchased and installed this garage door for my clients in South New Jersey. The entire purchase process was done online and via Emails. The door was shipped slightly past the projected date, but considering the current times we at, I was not complaining. The door arrived in a big box and was packed like a Christmas gift. The company spent a lot of time putting this package together so all items will stay intact. My carpenter and I watched the online videos and read the instructions. At first, we where slightly worried and a bit overwhelmed, but after half a day, we had the doors up and running. being the first time we installed this door, we did not leveled the glass when installing the system and the doors and lock did not operate as smooth as well as I expected. I reached to customer services in order to learn the issue. Besides getting directions to do the corrections, it happen at the time that a rap was visiting the East Coast from LA. He texted my phone directly and come over to my client house. He had a small tool bag and he right away started to work on the door and show me how to fix the issue. I am blowing away by the quality of the product, the purchase process and the customer services I received to make sure my client and I are happy, particularly since it is a small job to come and help me. The doors are working like butter and my clients are extremely happy. I have been in business for almost 30 years, and rarely that I find other suppliers providing as personal touch to their clients as I do to mine. Yiz from Assurance Construction LLC

If you are looking for a folding door and don't know where to go, this is the place for you. Everything from seeing the door, buying it, and having it installed was quick and easy. Installation took less than 3 hours and came out better than expected. The crew worked quickly, made zero mess, and paid attention to make sure the little details, which I didn't even see, were perfect. The field representative was also extremely helpful and knew the answer to every question we had. He was there when we initially saw the door and was also at the installation. The company is very reliable and is likely one of the best folding door companies out there, I highly recommend using them!
EZ-FOLD-A-DOOR ADVANTAGE
• Custom sizes
• Lifetime Hardware Warranty
• NFRC Energy Certified
• Patented Finger-Safe Seals
• Smart Glass Options
• HVHZ Miami Dade Available
• 24/7 Customer Service
• Easy Installation
*This applies to certain systems but not all. Please verify the certification of the system you select.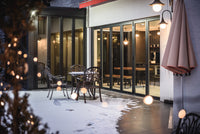 EXTREME WEATHER SERIES: AZ57
The AZ57 comes with a thermally broken frame which keeps the outside temperature out and the inside temperature in. 
It also comes with a high tech thermal barrier inside made from AZON™️ for additional insulation.
Learn More
Want to know more?
Download our catalog today and browse all of our different fold options, styles, colors and more!